View All Districts
View All Centers in Ernakulam District
---
Welcome to

Ernakulam District Profile
District Project Office function starts on 2005 January onwards.
Akshaya project office was initially functioning in FRIENDS JANASEVANA KENDRA at Kaloor, Later it was officially inaugurated at Asoka Apartments Near collectorate, Kakkanad from June 2005. District Collector is the Chief Coordinator of Akshaya and District Planning Officer is Distrcit Co ordinator of Akshaya. District Project Manager,Akshaya Co ordinator, Assistant Project Co ordinator, Two Project Assistant, Three Block Co ordinator are presently in Ernakulam Akshaya District Project Office .
There are 249 Active Akshaya Centres functioning and providing various Services like E_district ,Aadhaar updation, Kiosk Banking, MVD Registration,Online Payment services, Health insurance Registration through CHIAK, AABY registration , Registration Department, Fssai, Diary Development welfare board , Online Scholarship applications, etc.
District office also providing support to public for Aadhar related issues and other common issues. At the same time it act as public information centre for various services through Akshaya .
Achievements
1. One of our VLE Sri.Abdul Jaleel, Akshaya Entrepreneur, Oushadhi Jn Perumbavoor got Best VLE Award from National e- Governance Plan on 2014
2. Our District were placed in 2nd position on E district Project implementation for the period 2015-16.
3. Aadhaar Adalath was conducted at Collectorate Ernakulam on 2013 .
4. Aadhaar enrolment Special camp conducted in association with Swanthanam Programme and 'Jwala'Programme sponsored by District Collector Ernakulam ( This is only for differently abled persons).
5. Aadhaar Enrollment camps conducted through Block Panchayath wise, Anganvadi wise and Aadhaar enrollment camps conducted in prisons .
6. Aadhaar Enrollment camps conducted for Migrant Labourers in Ernakulam District. It was the first camp for migrant Labourers all over Kerala. Around 480 migrant labourers were enroll for Aadhaar under the leadership of Akshaya Ernakulam Team
In the District, 56 permanent Aadhaar Enrollment centers, 121 Aadhar updation centers and 41 Child enrollment Tab are active for Aaadhar Services.
Aadhaar Enrollment for new born child camp conducted in District General Hospitals and Thaluk Hospitals in connection with 15th Akshaya Day Celebration. In General hosopital. it is schedule to conduct Aadhaar enrollment camp for new born bay in Ist and 3rd Saturday of every month .
District Contact Details
Office Address Flat No. B3, Asoka Apartment, Near Civil Station, Kakkanad


Ernakulam
Kerala, India - 682030
0484 2426719, 0484 2422693,
Locate District Office on Map
എറണാകുളം ജില്ലയിലെ 41 ലൊക്കേഷനുകളില്‍ അക്ഷയ കേന്ദ്രങ്ങള്‍ ആരംഭിയ്ക്കുന്നതിന് സംരംഭകരെ തിരഞ...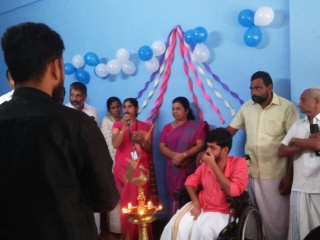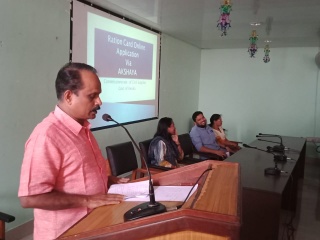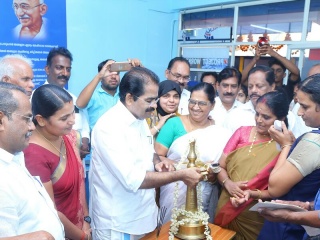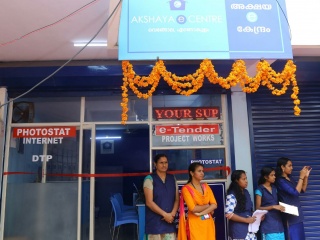 Akshaya Centers in Ernakulam District
List of all akshaya centers in the district of Ernakulam in Kerala.
---