View All Districts
View All Centers in Pathanamthitta District
---
Welcome to

Pathanamthitta District Profile
Akshaya district Project office (ADPO), Pathanamthitta started in 2004 with the aim of providing the best service to people in Information and Communication sector through 114 Akshaya centers.
The office is situated in Helen Park, near Pathanamthitta collectrate. ,with Hon. District Collector as the Chief Coordinator, District Planning officer as district Coordinator. 9 staffs working in ADPO with District Project Manager as the head, along with Akshaya coordinator (I/C), 5 block coordinators, Office assistant and a casual sweeper. All Akshaya centers are providing the best services to the people and following the best practices in all projects to get maximum benefits to the public.
---
Achievments
• Akshaya conducted Block wise E-governance Awarness programme to Local Body authorities, Kusumbasree members, LSGD members, Asha workers etc.. in association with District E-Governance society, to educate people regarding all services and their rates provided through e-governance.
• Akshaya played a vital role for publishing and delivering the book titled "Nammuk Ayalkkare Sahayikkam", which includes information regarding all benefits recieved from various government departments.
• Pathanamthitta is selected as the First District in completing 100% AADHAAR Enrollment through Akshayas and received the award of 'Excellency in Aadhaar Enrollment' and till now we have generated 1296397 Aadhaars and announced 100% enrollment in all the 8 Blocks. We have also completed more than 90% enrollment for children below 5 years in association with Social justice Department.
• We succefully piloted the project in INSURANCE sector in association with NEW INDIA ASSURANCE and later this project is implemented in all other districts which is helpful for common people to avail various insurance services specially in Health insurance and Vehicle insurance.
• Pathanamthitta district is awarded as the BEST PERFORMING DISTRICT in the year 2014-15 for delivering maximum services to common people through Akshayas.
• T.A.Shajahan, Akshaya Entrepreneur from Pathanamthitta (PTA111) has got various awards including 16th National E-Governance award, Award for the best entrepreneur in overall services in Kerala 2012- 2013, Award for State Top entrepreneur in Aadhaar Enrolment, Award for the best entrepreneur in overall services in Pathanamthitta Dist. 2012-2013, IMG E-Governance Award 2011-2013, SWEEP District award 2016 and other State and District awards.
• Pathanamthitta district is selected as one of the best district in the Online registration of 6th Grand Kerala Shopping Festival.
• Akshaya played a remarkable role in online ration card data entry data entry work by providing adequate data entry operators and needed hardware support.
• Akshaya actively take part in election webcasting process in 112 critical booths for the smooth running of Assembly election 2016 and all akshaya centers act as Voters Help Desk and also a member of SWEEP Campaign for increasing the voting percentage in pathanamthitta district.
• Akshaya included banking service by opening Kiosk of various banks in 44 akshaya centers which is helpful for people to do doing banking services through akshayas.
District Contact Details
Office Address AKSHAYA DISTRICT PROJECT OFFICE, HELEN PARK, PATHANAMTHITTA

Pathanamthitta
Pathanamthitta
Kerala, India - 689645
04682322708, 04682322706,
adpopta@gmail.com
Locate District Office on Map
20k registration completed
Click the Link to get the document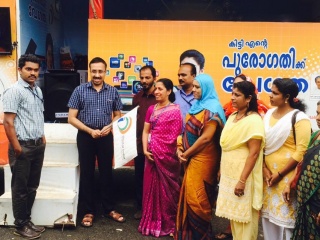 Akshaya Centers in Pathanamthitta District
List of all akshaya centers in the district of Pathanamthitta in Kerala.
---