View All Districts
View All Centers in Kasaragod District
---
Welcome to

Kasaragod District Profile
Akshaya District Project Office is situated in Thayalangadi, the municipality area of Kasaragod near to Kasaragod railway station. ADPO constitutes staff strength of 9, that includes DPM, APC(G), 5 Block Cordinators, 1 PA and 1 Data Entry Operator. ADPO constitutes 38 GPs and 3 Municipalities that having 124 well running akshaya centres. A well deployed team of Disrict Staffs are efficiently providing solutions for technical and administrative activities for the successful functioning of 124 alloted centres. These 124 centres are giving single window service to public for last 10 years that includes e - district, Aadhar services, Kiosk Banking, NIA etc..
Achievements
1. Bagged 2 times continuos awards in the year of 2013 - 14 for e - district. One for the best performance and another for the quantity of certificates distributed to public.
2. Ranked 2nd position as Best Performing district for " Digital India Week Celebration" followed by Alappuzha District.
3. Special appreciation for the successful implimentation of "webcasting" for Parliament Election in 2014, General Election in 2015 and KLA Election in 2016.
4. Successfully completed 90% of child enrollment for the district.
5. For JSP, district successfully completed 2 times help desk with experienced data entry operators.
District Contact Details
Office Address Akshaya District Project Office A R Rahman Enterprises Nr.Clock Tower Railway Station Road Thayalangadi, Kasaragod


Kasaragod
Kerala, India - 671121
04994 227170, 04994 231810,
akshayaksd@gmail.com
Locate District Office on Map
As part of e -office implementation for all District Collectorate, a intensive training se...
child Aadhar Enrollement 86% completed in kasaragod District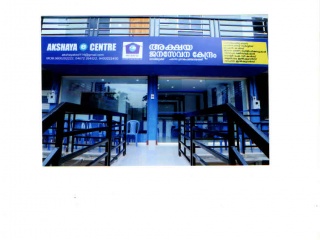 Akshaya Centers in Kasaragod District
List of all akshaya centers in the district of Kasaragod in Kerala.
---